Come with me and let's reflect on a beautiful psalm of praise!  The first three verses are so appropriate for a worship leader, or anyone living a lifestyle of worship – so I had them printed on a t-shirt along with this image: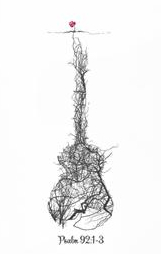 I love the idea of the guitar being the roots that produce a beautiful rose.  The thought of music reaching so far deep into the earth, into the soil, into the soul, and only the beautiful, colorful, vibrant and living work of art is visible above ground.
Psalm 92 – A psalm. A song. For the Sabbath day.
1 It is good to praise the Lord and make music to your name, O Most High, [isn't that the truth! It IS good.  It feels good to do, it just feels right, and fulfilling, almost like a drug sometimes.  And it IS good to do – it's a RIGHTEOUS thing to do.  It is precisely in line with God's will for our lives. It's exactly what he wants us to do]
2 proclaiming your love in the morning [what better way to start the day than by remembering, meditating on, and then declaring His great love]
and your faithfulness at night, [the BEST way to end the day, and prepare yourself for a peaceful sleep – remembering God's faithfulness, that He is in control; no matter what went wrong today, no matter the circumstances and things that trouble us at the end of the day, HE is faithful, and He is in control]
3 to the music of the ten-stringed lyre
and the melody of the harp. [not just with voices, but with instrumentation and creativity.  Music is designed by God to resonate within our hearts.  Music is another, complimentary method of expressing our praise that supplements what our words alone can't convey.]
4 For you make me glad by your deeds, Lord; I sing for joy at what your hands have done. [just knowing that you've done what you have done brings joy and peace as Your character is revealed in your actions]
5 How great are your works, Lord, how profound your thoughts! [how DO you think, God?  How does the maker of all thought think?  Is the concept of thinking something that is bound by time?  CAN God in fact "think"?]
6 Senseless people do not know, fools do not understand,
7 that though the wicked spring up like grass and all evildoers flourish, they will be destroyed forever. [thank You, Lord! For revealing your truth to me and keeping me from doing evil!]
8 But you, Lord, are forever exalted. [you were exalted before anything was created, and you will be exalted after everything created has passed away.]
9 For surely your enemies, Lord, surely your enemies will perish; all evildoers will be scattered.
10 You have exalted my horn[b] like that of a wild ox; fine oils have been poured on me.
11 My eyes have seen the defeat of my adversaries; my ears have heard the rout of my wicked foes. [Justice is a beautiful, wonderful, righteous and Godly thing.]
12 The righteous will flourish like a palm tree, they will grow like a cedar of Lebanon;
13 planted in the house of the Lord, they will flourish in the courts of our God. [May I be like that, Lord.  A palm tree that bends easily in the driving wind, remaining firmly planted even when berated by hurricane-like forces.  May I be like the beautiful, famous cedars of Lebanon – the pride of the region. Flourishing while remaining in the presence of God, rooted in Your presence.]
14 They will still bear fruit in old age, they will stay fresh and green, [never withering, ever fulfilling the purpose for which they were planted]
15 proclaiming, "The Lord is upright; he is my Rock, and there is no wickedness in him." [My rock and my salvation.  Praise You for Your faithfulness and everlasting, constant goodness. I Praise You Lord.]